Iconic National Parks of Utah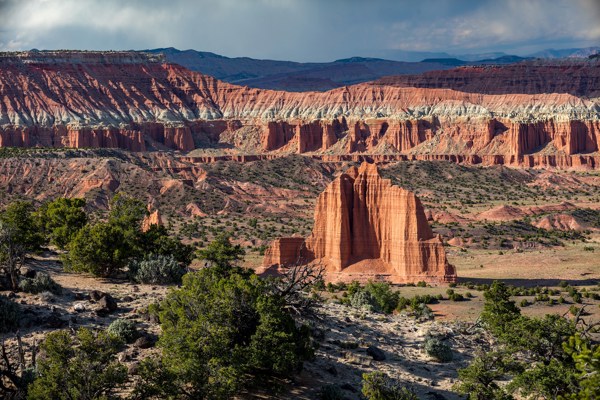 Iconic National Parks Of Utah
Explore Utah's spectacular National Parks in depth on this?Limited-Edition Tour. Traveling with up to just 17 fellow guests, revel in red sandstone landscapes and geological wonders, including Monument Valley Tribal Park, Zion and Capitol Reef National Parks. Slip through the sheer rock walls of Antelope Canyon in Lake Powell Navajo Tribal Park. Walk among hoodoos in Bryce Canyon and the giant Toadstools of the Grand Staircase-Escalante National Monument. Savor a picnic lunch, a traditional Navajo cookout, and enjoy destinations and experiences not available to larger groups. Featuring moderate hikes, 4 x 4 excursions and narrow canyon walks, this active tour is perfectly balanced with boutique hotels and resorts, where you can relax in style.
Choice Highlights
Choose between two carefully selected activities
Kanab: Explore one of Kanab's most stunning slot canyons, with a Local Expert. Peek-a-Boo slot canyon is located 10 miles outside of Kanab. Bound over the dunes in an all-terrain vehicle and learn about this special area. Hike through the canyon and get some great photographs in a day of fun and fabulous views.
Kanab: Hop into all-terrain vehicles to explore The Toadstools with a Local Expert. Admire the scenery as you drive out on sandy trails. A short hike (1.5 miles with some uneven terrain) then takes you to the intriguing balanced rock formations, which look like capped mushrooms - a photographer's paradise.
Well-being
: Our Well-Being Directors take a proactive approach to your welfare ensuring all well-being regulations are met (available on tours with 21 or more guests).
: Enjoy the comfort of Insight's luxurious, air-conditioned, 40-seat coach with double the standard legroom and onboard washroom. Our customized luxury coaches are sanitized before the start of your tour and are maintained to very high standards. Physical distancing measures have been implemented on our customized luxury coaches.
: Experience enhanced hygiene protocols to align with the latest guidance following COVID-19. All Travel Directors, Well-Being Directors and Drivers have completed training in enhanced well-being and hygiene protocols.
: Hand sanitizer is freely available on board for you to use throughout the day.
: We only work with establishments we are confident will consistently adhere to our high well-being standards, which include hotels, restaurants and sight-seeing venues.
Insight Experiences
Page: Hike through the Lower Antelope Canyon with a Navajo guide on this Insight Experience and learn about the tribe's history, culture and connections with the land. Deeply spiritual to the Navajo people, this majestic canyon is a photographer's paradise. *Note that this hike involves a lot of steps, and you need to be comfortable in very confined spaces, as the canyon is narrow. Access is only possible when there is no chance of rain.
Page: Navajo owned and operated, Red Heritage is a Native American Performing Arts Theater. They showcase local dancers talented in colorful powwow dancing, flute playing, and live drum music. It is a Make Travel Matter as it is owned by a local Navajo Family and they are helping preserve Navajo Culture and dance.
Monument Valley: Experience true authentic dining as you explore Monument Valley with a traditional Navajo cookout. Prepared by Navajo women in their tribal lands, this experience demonstrates their culture and supports the community. Dine on delicious steak and tasty Navajo Tacos, or try the or veggie option, all served with fried bread, corn on the cob and beans.
Top Rated Highlights
Page: Visit the Glen Canyon Recreational Area and enjoy one of the most iconic photo opportunities in the Southwest, "Horseshoe Bend" . It is a horseshoe incised meander of the Colorado River near Page where guests can walk to the edge of the canyon for pictures of the mighty river below.
Bears Ears National Monument: Take an easy 3 mile out and back stroll along a gentle canyon bottom to one of the most photographed sites in the region. Featuring five granaries built into overhanging Cedar Mesa Sandstone with a streaked pattern that resembles flames in the early morning light.
Natural Bridges National Monument: Take gentle hiking trails to various viewpoints of Utah's first National Monument, including Owachomo Bridge Trail, Sipapu Bridge, Horse Collar Ruin Overlook and Kachina Bridge Viewpoint. We enjoy a picnic lunch in nature.
Monument Valley: Take a scenic drive from Monument Valley, along the San Juan River towards Monticello, and marvel at the colossal red rock formations that flank the route. You may recognize this as the road where they filmed the famous "I am just going home now" scene from Forest Gump.  As you approach Monticello, you will be able to see the Blue Mountain, one of the four sacred mountains for the Navajo tribe.
Capitol Reef National Park: Join your Travel Director to see the natural sights along Capitol Reef's Waterpocket Fold, known as "a geological wrinkle on earth". The geologic monocline extends almost 100 miles and is filled with cliffs, canyons, domes and bridges. Admire petroglyphs and the domed shaped sandstone walls along the canyon.
Bryce Canyon National Park: The All-American Road,?Utah Scenic Byway 12?is said to be one of the most beautiful?drives?in the whole country. Also known as "A Journey Through Time Scenic Byway", pass through ancient layers of sediment as you climb up the Grand Staircase, to an elevation of over 9,000 ft. Get the feeling you are driving on a razor's edge with canyons on both sides of the road, all surrounded by aspen trees, wildlife and layers of red sandstone. Stop to enjoy all the lookout points along the way. *The road is open year-round but may be closed due to snow storms...
Travel is our passion and every step is designed with your comfort and pleasure in mind, giving you the vacation of your dreams. Enjoy a premium journey packed full of stylish hotels and authentic dining. Savor the views as you travel on spacious customized coaches, so that you arrive refreshed at each destination, and benefit from smaller group sizes. We believe incredible travel is about enjoying every moment, so the only question left for you is where do I want to go?